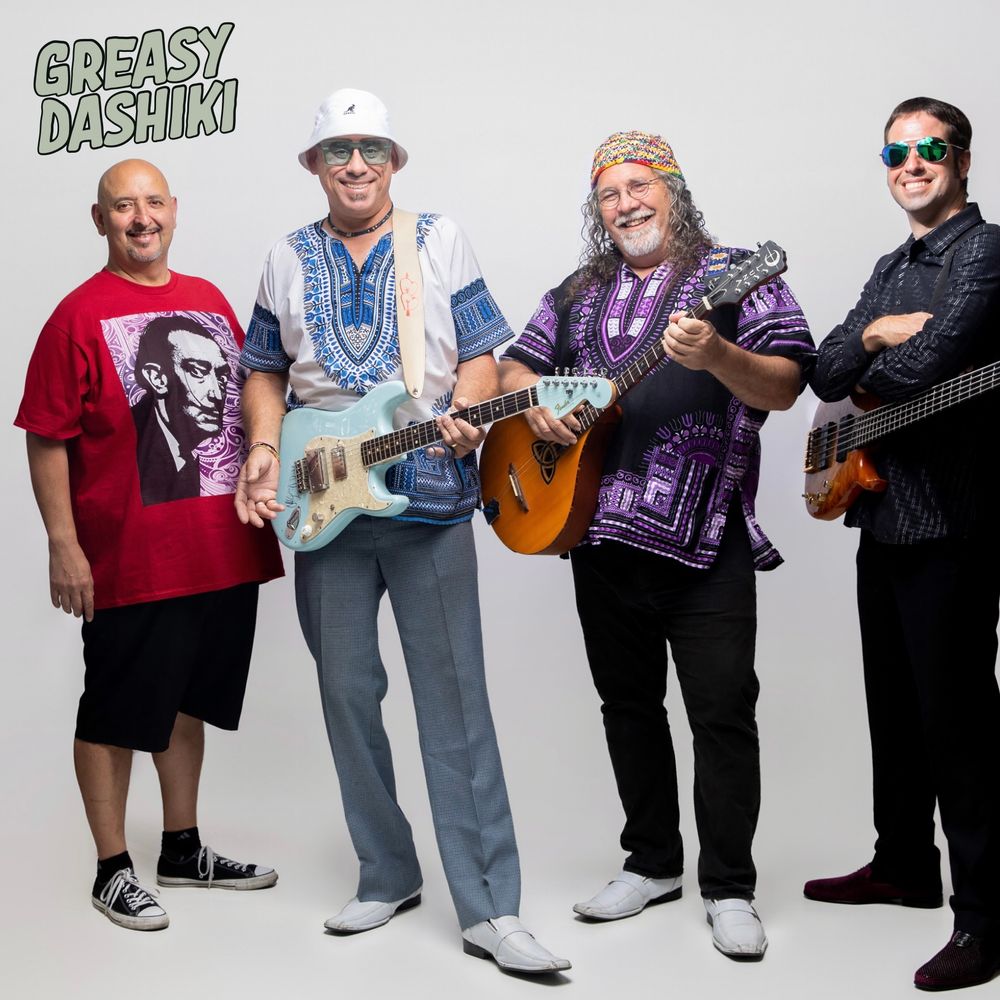 Greasy Dashiki is an eclectic party band of multi-instrumentalists that combine many musical traditions, (Reggae, Funk, Soul, Gospel, Rock, Ska, Chicha, Afro-Cuban, New Orleans, African, Cumbia), into one fun groovy, slighltly psychedelic sound that is just right for dancing, trancing, or making out. They love to defy genres and don't follow formulas in music or fashion. It's no cliches with Greasy Dashiki. 
BIOS
John lacy
Vocals/Bouzouki/Lap Steel/Guitar/Harmonica/Banjo
 I was born in the desert of South West Arizona and raised in the lion's den of Southern California. Mom was the church organist, Dad was in a barbershop quartet.  They played records like Oklahoma and West Side Story.  My older brother played The Beatles and Jethro Tull. Then my brother played "Johnny B. Goode" for me…  Everything changed…  Rudy Mejarado and I discovered Doctor Demento…  I heard the Clash, David Bowie, The Kinks, The Ramones, and others for a penny… My brother took me to see the Dead... I have played around California in a variety of bands for the last 30 years.  From punk to jam band to Irish folk, I grow with every style of music I get to play.  The result is a roots approach to songs that may or may not have been intended for such a style.  Either way, it's a good time... Honest!!!
 Tom hardin   
Bass/Saxophone   
Tom's family came to Tulare County on wagon trains and has been farming ever since. When he was just five years old, he was struck by an epiphany that there was nothing happening around him. At all. Every time he put on the radio, nothing. Then one fine morning, he read the f***ing book, and his life was changed by rock and roll. Since then, he spent his childhood battling sax addiction, slapping strange bass every night, and looking forward to running away on a Phish tour. Early projects included playing trumpet for jazz big bands and joining forces with blues legend Cole Fonseca. When he wasn't listening to reggae and bowling in college, he was playing bass with Mycology and other jazz combos. His degree from Cal finally prepared him for his lifelong dream of becoming a ski bum. He is currently recording his debut album and praying the state doesn't cut off his groundwater. #buycutiesnothalos
David rasner 
 Vocals/Bottleneck Guitar/Mandolin/Percussion 
I was born in Spain. In 1972, a hippie boarder who was staying at my Abuela's house gave me a Mad Magazine and my first record: a heavily scratched copy of Sgt. Pepper's Lonely Hearts Club Band. I also remember how much I loved when my dad played Al Green's Full of Fire and even better when he put on his harmonica holder and played Jimmy Reed songs for me. When we moved to the states and I started playing my dad's guitar, he finally let me have the 3 records I had wanted: Bobby Bland and B. B. King Together Again...Live, The Best of Muddy Waters, and Lightning Hopkins' (Folkways Label). Those were my Mel Bay books. My dad also turned me onto the Ink Spots and Harry Belafonte. High School brought New Wave, Van Halen, The Stray Cats, X, Bob Marley, Jimmy Cliff and Two Tone into my life . The Vaughan Brothers shifted me off my whole musical axis; leading me back to the blues; and, eventually, to my sensei David Bernstein. Dave showed me Wynonie Harris, Little Willie John, Little Milton, et. al., Flint's BBQ, and Mario's Bohemian Cigar Store Cafe meatball subs. But, everything changed when J. Sampietro gave me a copy of Ry Cooder's Borderline. Everything. Ry remains my idol, my guitar teacher/guru, and my portal to the great underappreciated American songbook.  
 David Sylvestre 
Drums 
 David Sylvester was born in San Francisco in 1969. David came from a musical family. His dad, uncles and great uncles all played music. He remembers growing up on his family's ranch were they had a music room with a Leslie organ and a set of red sparkle Ludwig drums and . He played drums in Jr..high and high school and by 15 was playing clubs up and down the valley. He has opened for many national acts and has performed with them as well. David's influences are Stewart Copeland, Dave Weckl, Dave Garibaldi, Vinnie Colaiuta just to name a few.
Press photos
Stage plot / Line Input List & rider